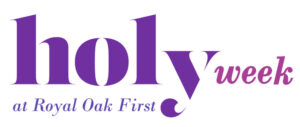 Sunday, April 2, 9:00AM and 11:00AM — IN PERSON & ONLINE
PALM SUNDAY
Join us as we celebrate Jesus' triumphant entry into Jerusalem. We will be led by our House Band and our children will participate in a Palm Parade. The Abide Men's Fellowship is sponsoring a SUNDAY BRUNCH after both services on Palm Sunday. There is no cost for the brunch and reservations are not necessary.
Thursday, April 6, 7:00PM — IN PERSON & ONLINE
MAUNDY-THURSDAY- "The Living Last Supper"
Leonardo da Vinci's Renaissance masterpiece "The Last Supper" is brought to life in this remarkable work created by Ruth Elaine Schramm through character monologues, expressive melodies, and dramatic enhancements for an unforgettable communion celebration. Musicians featured will be our Sanctus Choir and Orchestra.
Friday, April 7, 12:00PM — IN PERSON & ONLINE
GOOD FRIDAY
Join us in person or online for an impactful Good Friday worship service remembering Jesus' final day. This is a service of deep reflection.
Friday, April 7, 7:00PM — IN PERSON & ONLINE
7 LAST WORDS POETRY/MUSIC SLAM
Don't miss this live event where poets and musicians muse on Christ's last words. Unique, poignant, and compelling, the 7 Last Words Poetry Slam offers insights into Christ's humanity and divinity in his final moments.
Sunday, April 9, 9:00AM and 11:00AM — IN PERSON & ONLINE
EASTER SUNDAY
Christ is risen! Hallelujah! Join us for a morning of worship and celebration featuring a brass quintet and Sanctus Choir. This is a morning celebration not to be missed!