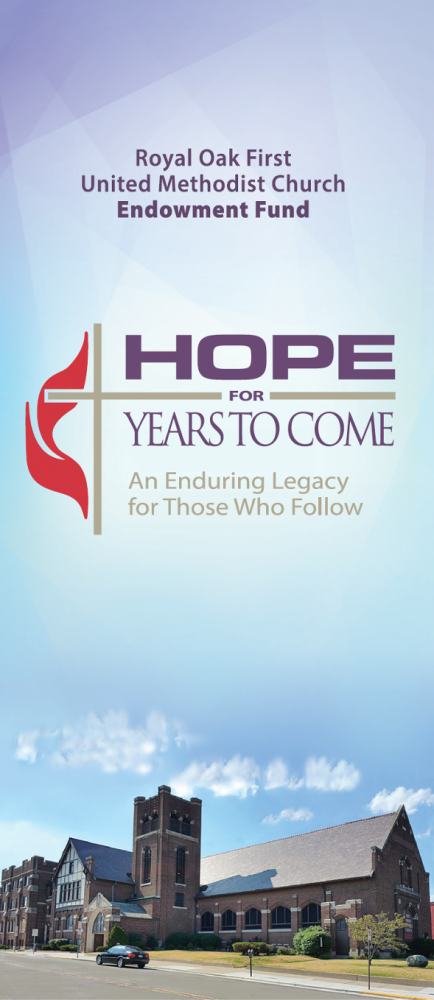 Our Hopeful Future
Our hope for years to come…
Like our brothers and sisters who have gone before us, it is our turn to donate some bricks, step up and give the gift that will ensure ministry in this corner of God's kingdom continues for years to come. Our community needs a place of hospitality, inclusivity and service perhaps now more than ever. The good news is that this is something the people of Royal Oak First have been doing for over 180 years!
To live into our hopeful future, we must secure this present moment. It is time to rebuild our Endowment.
Consider the ways Royal Oak First has played a vital role in your life – in times of joy and difficulty. Consider how you might invest in continuing its vital ministry and mission. Your gifts to the Royal Oak First Endowment Fund both now and after your lifetime will make your church home stronger and more responsive to the needs of generations to come.
Our Faithful Past
Oh, God, our help in ages past…
Look around the beautifully renovated building and know that God has continued to be faithful to and through the people of Royal Oak First United Methodist for over 180 years.
1838, the Methodist Episcopal Church became the first organized church in the township.
1842, a small wooden frame church was built on the corner of what is now 7th and Washington.
1893, Edwin Starr, local mason and loyal church member, donated the bricks to build the first brick church in the community.
1918, the 150 member congregation raised $90,000, $2.4 million in today's dollars, to build what is our current sanctuary.
1927, God called the people of Royal Oak to raise $170,000, $1.7 million in today's dollars, to build the Community House. For the next 25 years, almost every major community event was held here at our church.
1930s, during the Great Depression the Ladies Aid Society opened the community's first food pantry, a ministry of feeding and caring for the hungry that continues to this day.
1957, as the suburbs continued to grow, Royal Oak First once again responded by raising $425,000, $3.6 million in today's dollars, to expand the sanctuary and build the education building.
From the start, Royal Oak First has been a catalyst making a difference in the lives of people, in the community, and around the world. This church helped plant new Methodist churches in Ferndale, Royal Oak, Madison Heights, Hazel Park, Berkley, and Oak Park. Today our mission is lived out in a daily commitment to feeding the hungry, a mission relationship with the Methodist Church of Lithuania, and local partnerships with The Noah Project, Redford Brightmoor Initiative, and Cass Community Social Services.
Why an Endowment Fund?
In 1976, a major gift of stock began the Royal Oak First Endowment Fund. Like Edwin Starr's gift of bricks nearly a century earlier, this gift created the foundation and resources for many important capital projects of the church, including the parking lot, lobby elevator, and a major organ renovation. Most importantly, the Endowment Fund made possible the Royal Oak First Rebirth renovation we are enjoying today. This extensive renovation positions Royal Oak First as a vibrant 21st-century church ready to meet the ministry needs of the future.
Royal Oak First Rebirth is the largest capital project undertaken by Royal Oak First since the last major renovation over 60 years ago. This project required the expenditure of almost all Endowment Fund principal so that today, the Endowment Fund has a balance under $100,000 down from a balance over $3,000,000 prior to the renovation. Today we are benefitting from the foresight of those who recognized that the Endowment Fund would be key to ensuring that the ministry of Royal Oak First could strengthen and grow in the 21st century. Now it is our responsibility to rebuild the Endowment Fund so that future generations can continue and build on the strong ministry of Royal Oak First.
How Can I Give?
Royal Oak First is embarking on an Endowment Campaign to rebuild the Endowment Fund. You can support this important effort in multiple ways:
Donate a one-time gift
Make a multi-year pledge to the Endowment Campaign
Remember Royal Oak First in your will or trust
In addition to cash, there are other types of gifts, some of which may have tax advantages. For example, a donor may give
Stock, bonds, or mutual fund shares
Life insurance, e.g. tithing a policy, insuring a pledge, or making the church a beneficiary
Charitable Gift Annuity or Charitable Remainder Trust
Bequest – outright, residuary, or contingent
Real estate
If you have questions about gifts and bequests, please contact the church office at 248.541.4100.
Pledges, gifts, or bequests to the Royal Oak First Endowment Fund become part of the principal of the fund, and investment of this principal is used to generate Endowment Fund income. The Endowment Fund is designed to keep the principal amount intact while using the investment gains to provide for future building and other capital improvements. These include major repairs and equipment required to enhance the ministry of Royal Oak First. For example, Endowment Fund income might be used to repair or replace the church heating system boilers in the event of a failure, perform facility renovation or installations to support an emerging mission, or to upgrade audio/visual technology for an effective online ministry.