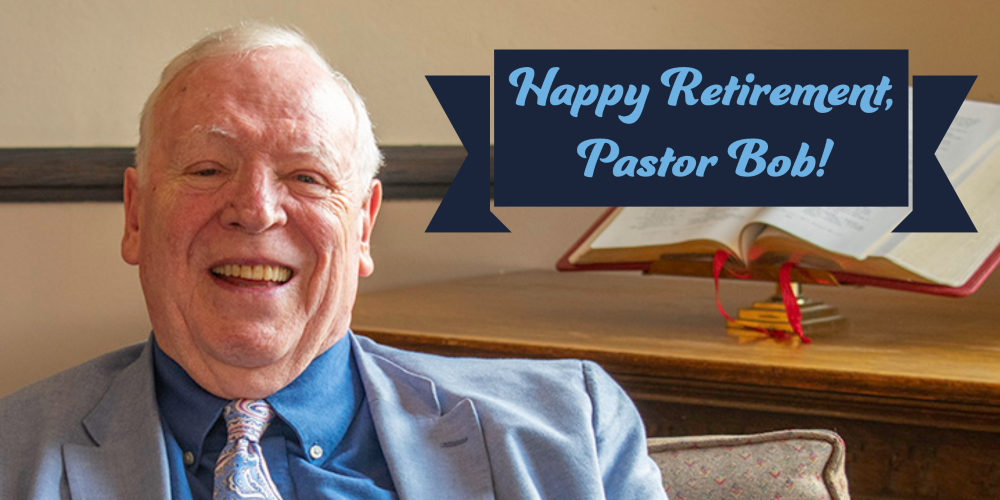 Dear Royal Oak First Friends and Family,
As a member of the Compass Team, I am pleased to announce the retirement of Rev. Bob Goudie.
Rev. Bob has been a United Methodist minister for over 40 years, having served many churches in the Detroit area. He has been the Pastor of Visitation at Royal Oak First since 2010. His steadfast love for our congregation has been unwavering and has provided us comfort, guidance, and reassurance over the past 11 years.
Rev. Bob and his wife Diana have three children, nine grandchildren, and four great-grandchildren. They love to travel and have been to 35 countries as well as all 50 states in the US. Although Rev. Bob's leaving is bittersweet our prayer and wishes will be with him and his family as they start this next adventure.
There are several ways we will celebrate Rev. Bob's ministry in the upcoming weeks.
Love gift
You can click this link (add link) or send it into the office. Please make sure to designate "Goudie Love Gift" on your check.
Personal note
Rev. Bob would enjoy hearing from you, so you could share an email with him retiredgoudierevs@gmail.com or send a note to let him know some of the many ways he has touched our lives.
19710 13 Mile Road
Apt 108
Beverly Hills, Michigan 48025
Drive up reception
Join us on Sunday, May 2, 2021, from 10:30 – Noon for a drive-up reception. You can pull up to the Lafayette entrance and share your well wishes with Rev. Bob.
For more information, please call the church office at 248-541-4100.
Thank you,
Robin Richardson
Compass Team Member
Dear Friends,
How time flies when you are having fun, and my how it has flown! When my friend, John Hice, asked me to come and "help out for a few months," I would have never guessed that those few months would have turned into almost 11 years. But it has, and it has certainly been a wonderful privilege for me.
My time here started out on a fantastic note as Peggy Gill took me under her wing and shared all of her great knowledge of "her" church. She had a wealth of information of every kind, which helped me quickly know people and begin serving here. She was truly a blessing. And the blessings continued as I enjoyed a great working relationship with both Pastor John and Pastor Jeff and all the rest of the staff here at Royal Oak First. The ministry here has been exciting and fulfilling.
I have particularly appreciated that the focus of my ministry here has been a pastoral one. I have enjoyed sharing the ups and downs of people's lives and being with many of you in your joys and sorrows. It takes me back that over 260 members of Royal Oak First have died in the years that I have been here and I was able to know, love, and share important times with so many of them. During these years, I have made hundreds of visits and phone calls. Even though my contact with people this past year has been limited to phone calls due to the pandemic, those phone calls have been extra special to me. Hopefully, I helped bring hope and encouragement to you, but also, these calls helped give me purpose and meaning as well during this difficult time. I've been inspired by the courageous way so many of you have found joy and meaning in new ways during these days.
But now it is time to move on. I will be celebrating my 80th birthday on the last of April. I feel the time has come for me to "retire" once more. I look forward to spending more time with my wife and my family and friends and, hopefully, more time traveling (although the Staff/Parish Relations Committee has been more than cooperative in allowing me the flexibility of arranging my schedule to be able to include lots of time to go on amazing vacations). But now, I'm beginning to feel the need to take a little more time to just "be."
I believe the future has more exciting things for Royal Oak First as well. God has done some "mighty ministry" through this church, and I am sure that God has much more for you to do as a faith community. Again, I thank you for the privilege of serving in ministry here. I pray for you and wish you God's blessings as you move into the future.
Pastor Bob