Located in the heart of Downtown Royal Oak, we're a Christ-centered congregation focused on serving God by serving the community. Always have been. The congregation is diverse and strives hard to be welcoming as we worship, spiritually grow, enjoy times together, and roll up our sleeves to make a difference in God's world.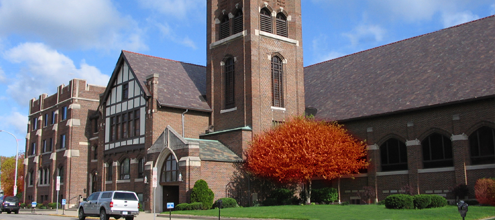 Our Mission
The mission of Royal Oak First United Methodist Church is to be an inclusive Christian community in the heart of Royal Oak serving God, one another, and the world.
Core Values
Our vision and our core values are wrapped up together:
Royal Oak First United Methodist (ROFUM) will be a Church that is
ALIVE: Animated, Living, Inspired, Vibrant and Engaged.
It will build a Christ-centered community, growing and deepening spiritual life.
We will live into this character by four essential paths: Christ-Centered, Engaging Worship; Life-Long Growth in Discipleship; Transforming Outreach and Mission; and Nurturing Fellowship. These express its core values.
We will make Christ-centered worship our first priority.
We will be a safe home for everyone as they are.
We will have strong core ministries to engage children and youth, with an expanding program for young adults.
We will not only be a community; we will also immerse ourselves in the community: be game-changers among whom people can be a part of a
significant mission.
We will be a global church connected with peoples around the world in partnership and care.
We will be a church engaged: ever learning and acting as a people of God who make a difference.
History
ROFUM has been located downtown Royal Oak for over 175 years. See our history page for a brief overview of our heritage.
New to Royal Oak First?
Click here to learn more and what to expect