ROY – Royal Oak Youth
 Sunday Evenings   5:30-8:30 pm
Every Sunday evening, Middles Schoolers and High Schoolers meet for fun, fellowship and learning. Leaders: Brideget Nelson, Jennifer Lowman, Josh Wright.
Choir Rehearsal 5:30 pm – 6:45 pm
Revelation Choir – Middle School (grades 6-8)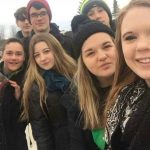 Angelus Choir – High school (grades 9-12)
Youth Group Dinner 6:45 pm – 7:15 pm
Youth Group 7:15 pm – 8:30 pm
Come and enjoy special Events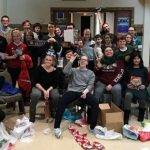 Christmas Party
Middle School
Sundays – Confirmation Class 2017-18
This year Confirmation Class is for ALL Middles School Students – 6th, 7th, and 8th graders. Confirmation Class meets on Sunday mornings at 11:00 am n the 4th floor.  Students are expected to attend 75% of the classes. Kip Tull and Sharon Cross are the leaders utilizing "re:form"  Confirmation Guild.
Confirmation class will include:
Weekly class on Sundays, 11:00 a.m..
Mission opportunities
Field trips
Serving the church
 Summer Camp
Camp Ohiyesa in Holly, MI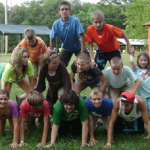 Summer Choir Camp is sponsored by the Music Guild of Royal Oak First United Methodist Church. The purpose of the camp is to provide experiences and opportunities to each camper to grow and develop spiritually, musically, physically, and mentally in order to develop personal character and ideals consistent with the highest ideas of Christian maturity.
We hope to meet the needs of a wide variety of personalities through a flexible program that offers a wide variety of special interest groups and by taking advantage of the opportunities that the campgrounds provide. We seek to help each camper:
Deepen personal spiritual life through worship experiences that the camper helps plan and lead.
Develop leadership, responsibility, cooperation, and a sense of personal worth through Christian fellowship and cabin life.
Deepen love, understanding and knowledge of music through choir, vocal instruction, and instrumental instruction.
Develop good sportsmanship, physical fitness, and athletic and aquatic skills by active participation in individual and team sports.
Develop personal identity by having the opportunity for creative and artistic expression in crafts and special interest groups.
Children and youth entering grades 3-12 in the fall of 2018 are invited to join us this summer. Registration packets will be mailed to all eligible ROFUM children and youth in late May. Additional registration packets for friends or those not connected to ROFUM will be available for pick-up in the church office beginning June 1.
Coming Soon – Youth Medical Release Form
Coming Soon – Youth/Child Ministry Participation Form